Reading Intervention
Unlock the potential of struggling readers with our tailored Reading Intervention approach. Backed by evidence-based strategies, we provide individualized instruction to empower students in developing essential reading skills, including phonics, fluency, vocabulary, and comprehension.
Our tutoring programs are designed with flexibility in mind, allowing us to work collaboratively with you and your students to accommodate unique needs and schedules.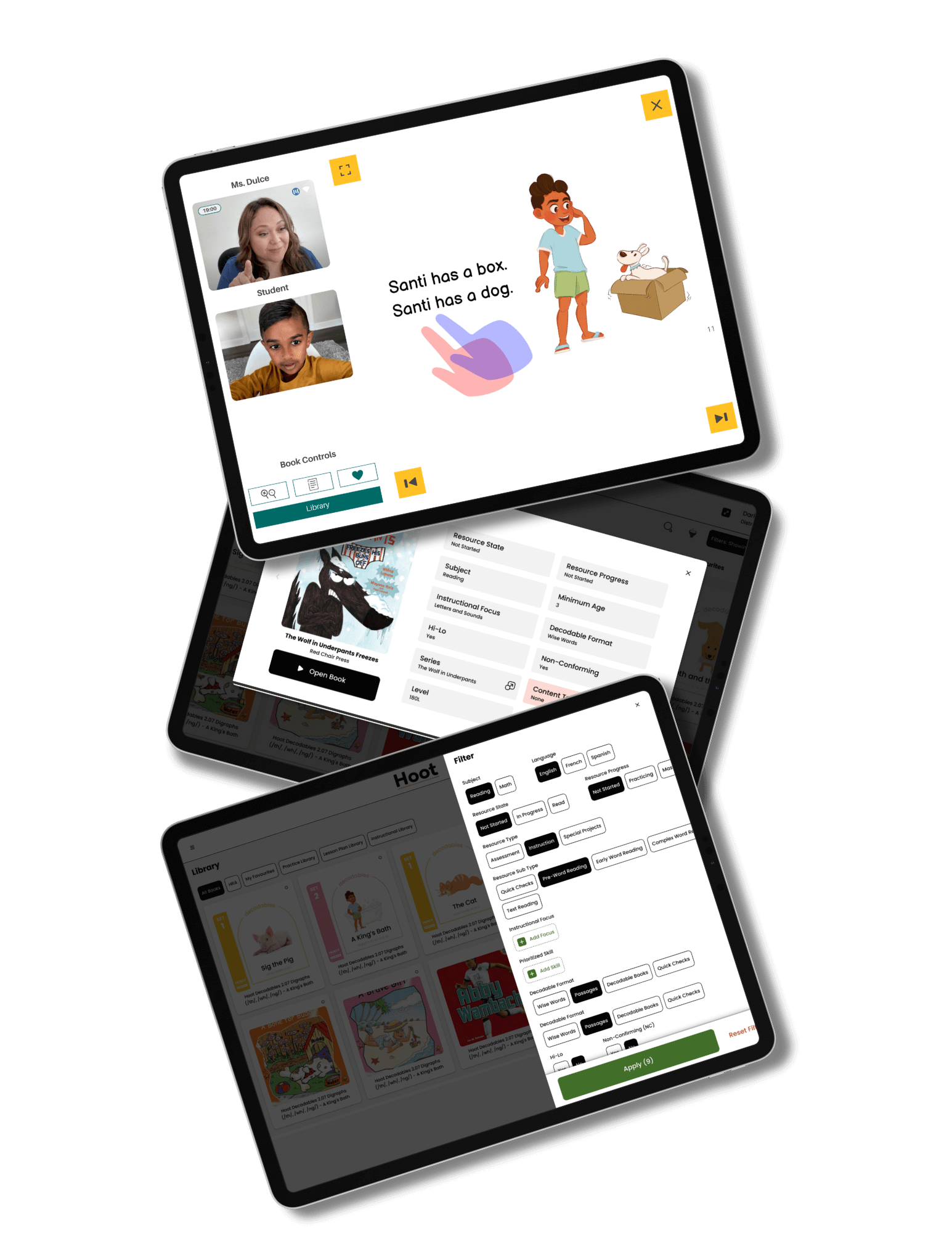 Evidence Based
Our technology is intentionally designed for remote literacy instruction, incubated on a research project at the Nokia Research Lab with Sesame Workshop (the creators of Sesame Street) and the Joan Ganz Cooney Center.
Teacher-Led
Teacher-led tutoring yields the greatest impact on literacy outcomes. All Hoot tutors are qualified teachers holding a B.Ed (or higher), with extensive classroom experience.
Flexible & Simple
Hoot offers flexible and adaptable lesson schedules enabling access to Reading Intervention with qualified teachers in school, after school, or at home, with resources for schools and families to support engagement and enrollment.
Funding-Eligible Solution
Our evidence-based approach to targeted literacy intervention and commitment to providing equitable access to education make us an ideal candidate for federal and state-level funding, helping schools and districts further invest in the academic success of their students.
Assessment Informed
All Hoot lessons utilize an assessment-informed Structured Literacy approach, providing a data-driven, individualized lesson plan tailored to every student to improve their skill development, engagement, and attitude toward reading.
Scalable
Our proven online platform delivers Reading Intervention programs to students across North America, in schools and districts of all sizes. Our scalability is fuelled by a continent-wide network of qualified teachers, innovative technology, and an inclusive collection of 2,000+ diverse texts.
Our Impact
Ontario Impact Study
How districts across Ontario are using high-impact tutoring to identify and address achievement gaps in literacy.
School districts across Ontario partnered with Hoot Reading to assess and address the literacy needs of their K to 8 students through 1:1, evidence-based tutoring using structured literacy practices.
We assessed students and how districts implemented tutoring during and after school hours to maximize student engagement and academic success.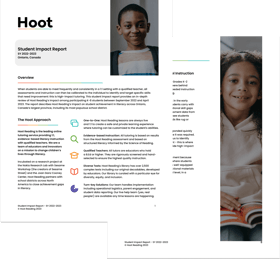 Our Teacher Network
All Tutors are Highly Qualified Teachers
All Hoot Reading teachers are highly qualified in early literacy instruction, each with extensive in classroom experience and a Bachelor's, Master's, or Ph.D. in Education. Every teacher is vetted through comprehensive background checks and mock tutoring sessions, and is continuously assessed though our extensive quality assurance program.
50% have 10+ Years of Classroom Experience
54% of Teachers on the Hoot Reading Network have more than 10 years of in classroom teaching experience.
1 in 3 Teachers Self-Identify as Non-White
54% of Teachers on the Hoot Reading Network have more than 10 years of in classroom teaching experience.
30% are Special Education or ESL Certified
30% of teachers on the Hoot Reading Network have Special Education, Dyslexia, or English as an Additional Language Certifications in addition to their Teaching or Education degrees.
Our Partners

Connect with us
Discover how Hoot Reading's 1:1 online literacy tutoring can bring transformational impact to your school or district.
Join our Mailing List
Be the first to receive the latest updates, news, and promotions. For information on how to unsubscribe, please review our Privacy Policies.