Hoot Reading
1:1 High-Impact Literacy Tutoring
All Hoot Reading tutoring programs are assessment-informed and intentionally designed to uncover specific areas where students are struggling. Every student's instructional pathway adapts throughout their tutoring program, directly targeting their unique skill gaps and moving them closer to reading proficiency.
Hoot's data-driven approach to tutoring offers meaningful dosage, progress, and impact data that engages parents in student development and helps schools and districts make future literacy investments equitable, impactful, and cost-effective.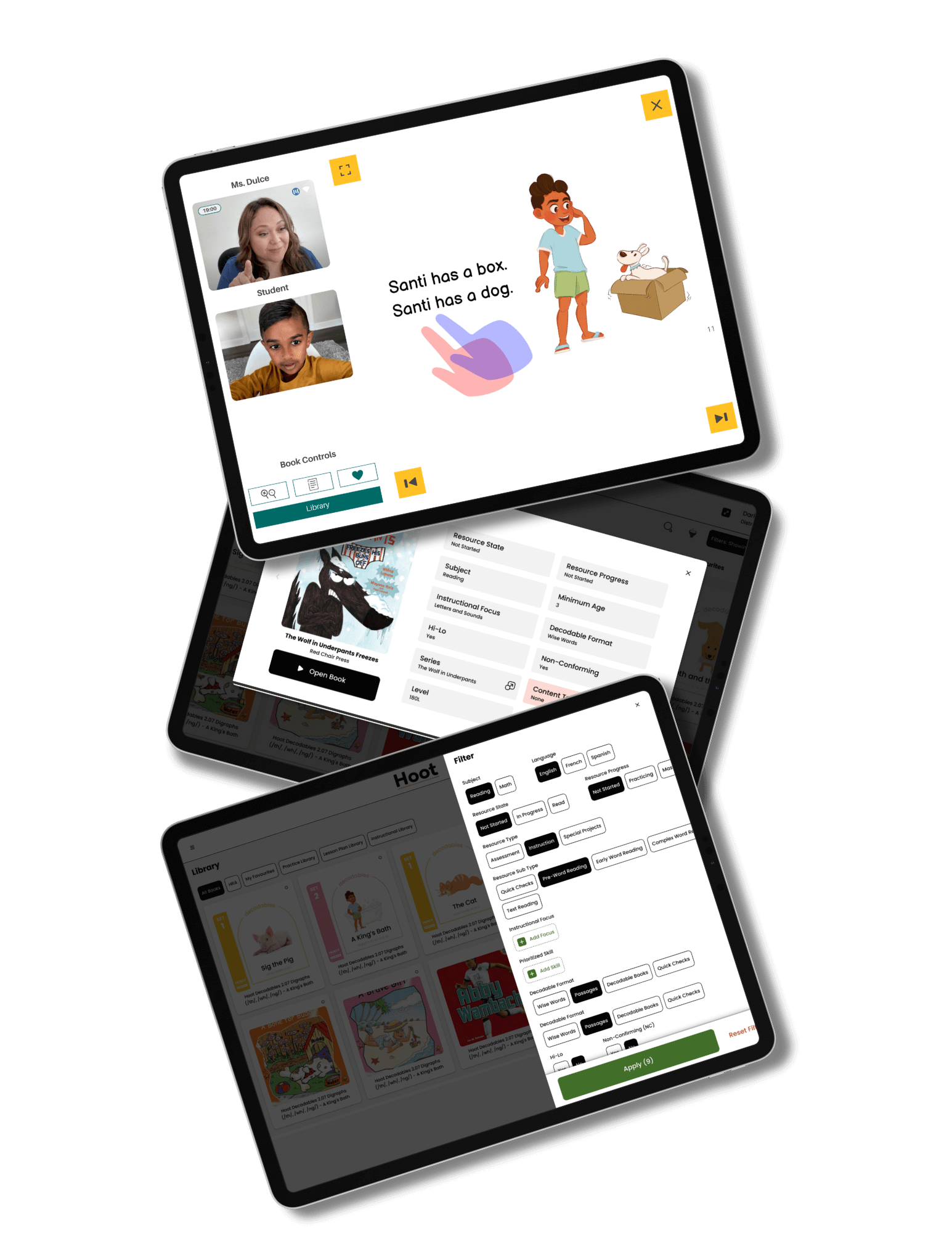 Designed for High-Impact Tutoring
Technology designed and developed specifically for teaching reading remotely in a safe and effective online environment.
Inclusive
Hoot Reading values diversity through a child's learning journey. Hoot's decodable and complex multi-genre texts prioritize diverse characters, storylines, and authors.
Flexible
Hoot offers flexible lesson schedules with resources for families to support engagement and enrollment. Reading lessons can be delivered at school or at home.
Progress Monitoring and Assessments
We provide detailed reporting on students' skills including: phonological and phonemic awareness, decoding, fluency, and comprehension.
Scalable
We work with schools and districts of all sizes to meet the needs of your students. We deliver high-fidelity literacy tutoring to most efficiently improve independent reading scores and literacy skill development.

200,000+
Reading Lessons Delivered



88%
of Students Demonstrated Growth


Our Impact
Ontario Impact Study
How districts across Ontario are using high-impact tutoring to identify and address achievement gaps in literacy.
School districts across Ontario partnered with Hoot Reading to assess and address the literacy needs of their K to 8 students through 1:1, evidence-based tutoring using structured literacy practices.
We assessed students and how districts implemented tutoring during and after school hours to maximize student engagement and academic success.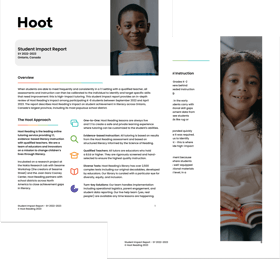 Click here to download the report.


Our Teacher Network
All Tutors are Highly Qualified Teachers
All Hoot Reading teachers are highly qualified in early literacy instruction, each with extensive in classroom experience and a Bachelor's, Master's, or Ph.D. in Education. Every teacher is vetted through comprehensive background checks and mock tutoring sessions, and is continuously assessed though our extensive quality assurance program.
50% have 10+ Years of Classroom Experience
54% of Teachers on the Hoot Reading Network have more than 10 years of in classroom teaching experience.
1 in 3 Teachers Self-Identify as Non-White
54% of Teachers on the Hoot Reading Network have more than 10 years of in classroom teaching experience.
30% are Special Education or ESL Certified
30% of teachers on the Hoot Reading Network have Special Education, Dyslexia, or English as an Additional Language Certifications in addition to their Teaching or Education degrees.
Our Partners

Connect with us
Discover how Hoot Reading's 1:1 online literacy tutoring can bring transformational impact to your school or district.
Join our Mailing List
Be the first to receive the latest updates, news, and promotions. For information on how to unsubscribe, please review our Privacy Policies.