Careers at Hoot
We are on a mission to change children's lives through literacy. As one of Canada's fastest-growing edtech companies serving students across North America, we are looking for passionate self-starters to join our team.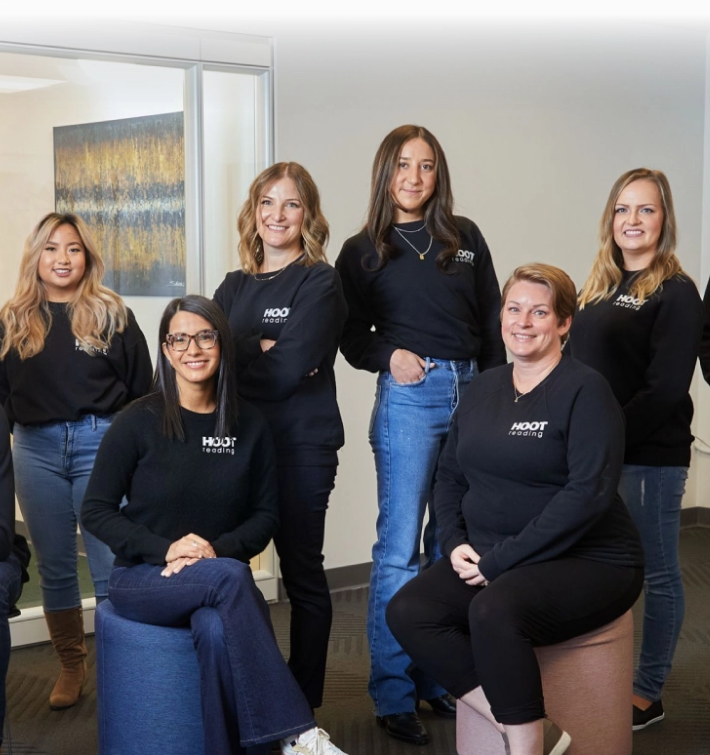 Our Values
Above all, our mission is to change children's lives through literacy.
Reading proficiency is fundamental and enables all other learning. In fact, literacy skills are recognized as one of the strongest predictors of academic success.
Our vision is to make evidence-based, 1:1 literacy instruction accessible to all children.
Collaboration & Teamwork
We are an all hands on deck team and love to hear ideas from all team members.
Continuous Learning
We are passionate about changing lives through literacy and have a strong desire to keep learning ourselves too - about our industry, our stakeholders, our jobs, and the world around us.
Efficiency & Innovation
We think outside the box, are process-driven, and strive to achieve efficiencies in the work we do.
Empathy
Our actions take into account the people we work with - customers, vendors, teammates, teachers, and students.
Motivation & Entrepreneurship
We all think like business owners and feel motivated to work hard to achieve our professional (and personal) goals.
Autonomy & Accountability
We allow team members to own their work with the trust that everyone is working towards the same goals and we take responsibility for the work that we do.
Impact
Help thousands of students access life-changing literacy intervention by qualified teachers
Leadership
Learn from award-winning leaders in education, technology, and entrepreneurship
Growth
Develop new skills, make a difference, and help shape our fun and inclusive company culture
Current Openings at Hoot
We are committed to an inclusive workplace. Our diverse team members, who reflect the communities we work in, strengthen Hoot's high-impact tutoring and company culture.
We encourage applications from all qualified candidates including those from historically excluded communities.
Growth | Vice President, Revenue (VP, Partnerships)
Location: Remote Within North America (Headquarters in Winnipeg, Manitoba)
Reports to: Co-CEO
As VP of Revenue, you'll lead our growth strategy, manage a sales team and build strong relationships within the K-12 education sector. Your proven record in K-12 sales will be key. You will play a key role as an executive leader, reporting directly to the Co-founders.
Growth | Director of Partnerships - Canada
Position: Director of Partnerships - Canada
Location: Remote Within Canada (Headquarters in Winnipeg, Manitoba)
Reports to: Head of Growth
We are looking for a results-driven sales leader to join our growth team, focused on developing and closing new business opportunities in Canada. The ideal candidate has experience leading sales within the Canadian K-12 Education market, ideally in the realms of Literacy, Tutoring, or EdTech.
Growth - Marketing | Proposal Coordinator
Location: Remote Within Canada (Headquarters in Winnipeg, Manitoba)
Schedule: Flexible hours
Reports to: Head of Marketing
As the Proposal Coordinator, you will work alongside other members of our Growth team to contribute to business development and expansion. You will be responsible for organizing the submission of our RFPs, including collaborating with cross-functional teams and writing persuasive responses that showcase our brand's capabilities in the online tutoring space. The successful candidate will also research, evaluate, and apply for various awards and grants and assist with copywriting and editing for pieces of content and collateral. We are looking for a creative self-starter who thrives in a space of storytelling, growth, and change.
Flexible Work Hours
Team members can work with their manager to find a schedule that fits their needs.
Remote-Friendly
Work from home, a coffee shop, or our co-working space in south Winnipeg, Manitoba.
Comprehensive Benefits Plan
Benefits available for full-time Canadian employees, including health and dental coverage, as well as long-term disability, life insurance, and AD&D coverage.
Opportunities for Advancement
As a growing company, we are always looking to advance high-performing team members.
Strong Culture
We prioritize regular team and company-wide activities - we host monthly Hoot Halls for the entire team to attend, have regular team lunches, and other fun social events.
Benefits & Perks
We care about our team and culture.
We know passionate, smart people working in a supportive environment will drive growth, innovation, and create value for the business. We authentically put people first across our entire business to collaboratively make evidence-based, 1:1 literacy instruction accessible to all children.
Join the Hoot Teacher Network
Join our Mailing List
Be the first to receive the latest updates, news, and promotions. For information on how to unsubscribe, please review our Privacy Policies.