Assessments & Reporting
Unlock your students' full potential with our evidence-based, comprehensive reading assessments, rooted in the Science of Reading.
Don't leave your students' success to chance - identify their individual instructional needs and unlock the key to reading mastery, setting your students on the path to academic achievement and lifelong literacy.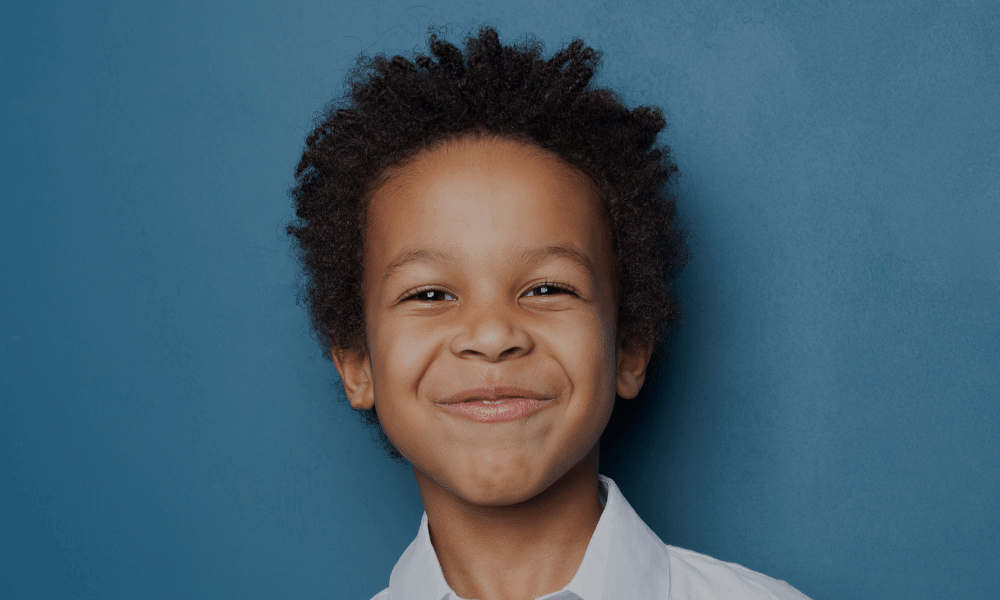 Evidence Based
Created by a team of literacy specialists and informed by the Lexia LETRS® (Language Essentials for Teachers of Reading and Spelling) Suite and UFLI (University of Florida Literacy Institute) Foundations Program, the Hoot Reading Assessment is intentionally designed for evidence-based, 1:1 literacy instruction.
Comprehensive
Covering the two key areas of reading development; word-level reading (decoding) and language comprehension, in accordance with the large body of research commonly known as the Science of Reading, our assessments provide a holistic understanding of a student's reading abilities, identifying both strengths and areas for improvement.
Individualized Outcomes
Hoot Reading Assessments follow a non-linear path unique to each student to assess various skills, including phonological and phonemic awareness, word-level decoding, fluency, and comprehension, and delivers actionable insights and an instructional pathway unique to every student.
Easy-to-Interpret
Our assessments are designed with educators in mind, with individual student and aggregated versions designed to communicate the key insights to parents, educators, and administrators, saving time and streamlining evaluation.
Progress Monitoring
Hoot Reading Assessments support ongoing progress, dosage, and impact monitoring, engaging parents in student progress, enabling educators to track student growth, and helping schools and districts make future literacy investments equitable, impactful, and cost-effective.
Versatile and Adaptable
Our assessments cater to a diverse range of learners, including students with varying skill levels, backgrounds, and learning needs, and regardless of age, ensuring that every student has equitable access to the tools they need to succeed on their reading journey.
Our Impact
Ontario Impact Study
How districts across Ontario are using high-impact tutoring to identify and address achievement gaps in literacy.
School districts across Ontario partnered with Hoot Reading to assess and address the literacy needs of their K to 8 students through 1:1, evidence-based tutoring using structured literacy practices.
We assessed students and how districts implemented tutoring during and after school hours to maximize student engagement and academic success.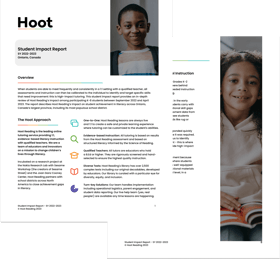 Our Teacher Network
Assessments Delivered by Highly Qualified Teachers
All Hoot Reading teachers are highly qualified in early literacy instruction, each with extensive in classroom experience and a Bachelor's, Master's, or Ph.D. in Education. Every teacher is vetted through comprehensive background checks and mock tutoring sessions, and is continuously assessed though our extensive quality assurance program.
100% of Teachers have Degrees in Education or Teaching
All teachers on the Hoot Reading Network have a Bachelors of Education or Teaching, and 74% have advanced degrees, including Master's, Doctorates or Advanced Teaching Certifications.
1/2 have 10+ Years of Classroom Experience
54% of Teachers on the Hoot Reading Network have more than 10 years of in classroom teaching experience.
1 in 3 Teachers Self-Identify as Non-White
Hoot Reading's Teacher Network identifies as being more diverse (compared to roughly 1 in 5) than the general population of teachers in the United States1. Hoot Reading values diversity through a child's learning journey and is committed to continually advancing diversity of our content and Teacher Network.
30% are Special Education or ELL Certified
30% of teachers on the Hoot Reading Network have Special Education, Dyslexia, or English Language Learner (ELL) Certifications in addition to their Teaching or Education degrees.
The Importance of Assessments
Assessments Unlock Transformational Impact
1
TARGETED INSTRUCTION
All programs begin with the Hoot Reading Assessment, which follows a non-linear path unique to each student to assess various skills, including phonological and phonemic awareness, word-level decoding, fluency, and comprehension. Outcomes translate to individualized instructional plans that enable targeted skills instruction.
Learn More About Our Reading Intervention
2
DATA-DRIVEN APPROACH
Assessments serve as the foundation for a data-driven, adaptable approach to tutoring and reading intervention. They ensure instruction continuously targets students' unique skill gaps, encourage reading confidence, and move students closer to reading proficiency.
Learn More About Our Tutoring Solutions
3
IMPACT & PROGRESS MONITORING
Assessments serve as the foundation for meaningful progress and dosage data to help our partners make future literacy investments equitable, impactful, and cost-effective. In addition to foundational reading skills, we prioritize continuously assessing every student's attitude towards reading as a central factor of success in their academic journey and beyond.
Learn More About Our Impact
Connect with us
Discover how Hoot Reading's 1:1 online literacy tutoring can bring transformational impact to your school or district.
Join our Mailing List
Be the first to receive the latest updates, news, and promotions. For information on how to unsubscribe, please review our Privacy Policies.